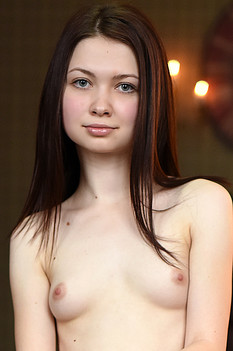 Name: Lusia
ID: 428 Rank: 4.56
Age: 18
Hair Color: Brown
Eye Color: Grey
Bra size: AA
Country: Russian Federation
Members Rating:











Russian teen girls have always been quite something special to feast your eyes at. She is a slender beauty with hot AA sized tits to play with and a stunning grey eyed gaze that reflects the depths of her soul. Her chocolate brown hair is natural and is unlike anything you have ever seen before. She will make you laugh and keep the conversation up with that cute Russian accent of hers.


shelby wrote (2016-01-18 05:53:04):
This girl needs to do some videos!!
Everything about her is perfect.
renba7 wrote (2015-11-18 14:06:01):
Agreed! Video with some good close-up would be awesome. And dont forget her eyes in those!
beasho wrote (2015-03-10 04:15:57):
A beautiful face and great smiles combined with a lovely figure and a great looking pussy. WOW - surely my type of girl.
Thanks Luisa for sharing your beauty!
More sets of her including movies would be appreciated.