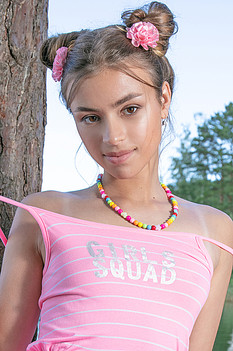 Name: Lisa
ID: 942 Rank: 4.56
Age: 20
Hair Color: Brown
Eye Color: Brown
Bra size: AA
Country: Czech Republic
Members Rating:











Lisa is yet another beautiful and incredibly stunning teen girl from Czech Republic. If you are looking for a new online girlfriend who will never say no, no matter what, Lisa is the perfect choice for you. Lisa just turned 20, and her fantasy is beyond imaginable. Lisa likes all kinds of activities, softcore and lesbian, and she will do her best to make you feel like in heaven for sure.


Johna10-SB wrote (2022-01-18 15:05:18):
Great model + great music = great video.
Chris13c wrote (2020-10-30 18:50:24):
I could stare at LISA's incredibly beautiful face all day long; looking in her eyes I get completely lost.
And then her wonderful body....
More videos with this ultra-cute teenie-goddess, PLEASE!