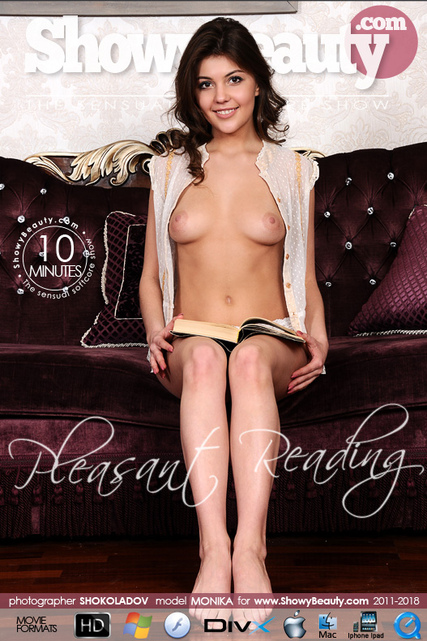 << Previous Set
Next Set >>
PLEASANT READING VIDEO
BY SHOKOLADOV
Added 2018-05-14
10:02 min VIDEO
Download full length movie
685.45 MBYTES
610.83 MBYTES
602.40 MBYTES
143.53 MBYTES
Download video episodes
Balduin wrote (2018-08-14 03:19:53):
THIS is exactly what I am a member for!!! A terrific, immensely sensual video with a girl who is simply breathtaking!!! I also adore the touch of glamour in this scene; it makes Monika even more desirable and hot! Thank you so much, Monika and Shokoladov, videos like this brighten my day! More Glamour videos please !!!
Miezenmax wrote (2018-06-01 13:03:53):
I could watch Monika the whole day in this stylish living room reading books - without getting bored. This angel has it all: a warm, inviting smile, a fantastic, tight body, wonderful breasts, a super-pretty face - and damn is she hot! Clearly one of my favorites as well! More videos like this please!
anonymous wrote (2018-05-22 15:31:04):
Always enjoy vids by Shok! What a PRETTY girl! when she goes doggie on the couch we're treated to a sniffin' distance closeup of her JUICY DRIPPIN' WET BALD Pee-Pee & cute puckered asshole! Then vid pans up to her looking at camera w a big pretty smile all over which I was wishing I could bust my nuts splattering a massive jizz shot all over that pretty smile! But alas I was relegated to more great shots of her pretty wet pee-pee & emptying my balls in my shorts! Very pleasurable pee-pee & asshole show to beat off over! Very sweet girl!
Chris13 wrote (2018-05-17 12:32:37):
This is easily one of the most amazing content ever to appear on SB! I don't believe that any man on this planet can resist a girl who is as beautiful as the wonderful Monika! Her perfect breasts, her tight slender body, her angelic face, her seductive looks, her lovely hair... she is an absolute dream girl! Seeing a video like this one reminds me why I am a member! Shokoladov has done another outstanding job! I totally love it! This is so much what I want to see on SB; please more VIDEOS like this! Thank you!