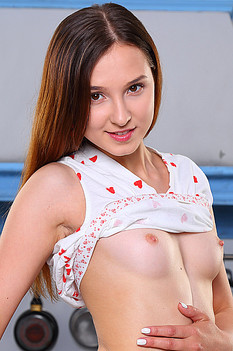 Name: Milana
ID: 755 Rank: 5.99
Age: 19
Hair Color: Brown
Eye Color: Brown
Bra size: A
Country: Ukraine
Members Rating:











Milana is yet another hottie who comes from Ukraine. She just turned 19, but she is already one of the biggest stars where she is from. Milana has amazing long brown hair, cute brown eyes and the most beautiful and most erotic A sized tits you will not see anywhere else. Let her play with you all night long and let her be your new girlfriend as what she does when at work is something remarkable.


TillEulenspiegel wrote (2019-01-09 09:44:20):
Oh my god is she pretty and sexy!! An absolutely stunning dream girl! Please bring us many more videos with Milana!!!! Alexander's most amazing discovery.
Balduin wrote (2018-08-11 00:28:13):
Clearly a new favorite of mine! Juvenile charms, flawless body and a pussy that must be any man`s dream! Please more videos with gorgeous Milana!