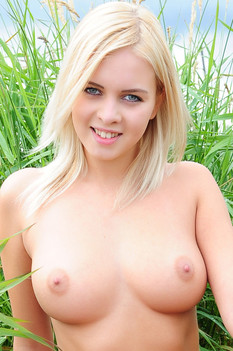 Name: Berry
ID: 62 Rank: 4.23
Age: 20
Hair Color: Blond
Eye Color: Blue
Bra size: C
Country: Russian Federation
Members Rating:











Smiling blonde Berry is a perfect Russian beauty with a lovely character that simply matches her looks. She is graceful and elegant, and has a body that seems to be out of this world - fantastically smooth skin, slim legs, perfect butt and stunning C-size breasts. All this, combined with her love for exciting feeling of being nude in front of the camera, makes Berry an ideal model for the Showy Beauty website!


beasho wrote (2015-01-25 23:43:38):
Berry You are of the most beautiful girls I have ever come across. A natural blond with a gorgeous smile and lovely blue eyes. Firm and tender full breasts, with perfectly sized perky nipples and pink areolas with the darker skin surrounding them - extremely rare.
Spreading Your legs, You show us Your smooth skinned well shaped thighs. Although Your outer pussy lips are not very pronounced, Your inner pussy lips stand out nicely when You spread Your gorgeous legs exposing the beautiful pink fresh skin between them.
With this perfect body and sunny personality You should make it far in any walks of life.
Berry You are a GREAT girl. Thanks for sharing Your extremely beautiful looks with me. I sincerely wish YOU a brilliant future.
fido123 wrote (2014-08-07 20:27:24):
Berry's pussy must get lots of attention... 'Bet she enjoys that ! Gorgeous girl ! Gorgeous !
Yorkhesan wrote (2014-02-05 08:26:53):
Lovely young lady!!!