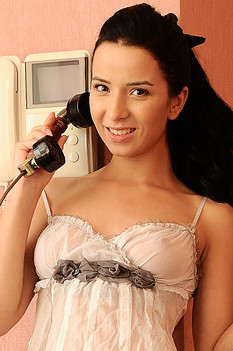 Name: Sara
ID: 700 Rank: 4.56
Age: 22
Hair Color: Black
Eye Color: Brown
Bra size: A
Country: Ukraine
Members Rating:











Sara is the cutest 22 year old Ukrainian beauty you have ever seen. She has beautiful black hair and a pair of cute brown eyes that will seduce you with a single glance. Nothing can stop her from making guys want her and from going all in on them. A pair of sweet A size tits will definitely keep your attention as she shows them off.


anonymous wrote (2018-05-16 22:58:09):
Gorgeous butt nekkid as the day she was born, she's all sweaty INCLUDING her BEAUTIFUL BALD WET pee-pee! Fantastically pretty tight puckered asshole too! She serves it all up at sniffin' distance w a pretty smile on er sweet sweaty face! Would LOVE to jack off all over that pretty face; what a beautiful sight that'd be! Yummy pud smackin' real men's pornographic art entertainment! Very good girl! Please have her back many more times for both vids & some nice photo sets to keep us good & hard! Thnx in advance girl!