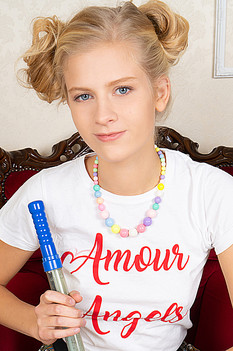 Name: Amy
ID: 789 Rank: 9.80
Age: 19
Hair Color: Blond
Eye Color: Blue
Bra size: A
Country: Czech Republic
Members Rating:











Amy is one of those girls who you taste once and remember for a lifetime. She comes from the Czech Republic and if you are on a hunt of the hottest girls in the area, Amy is the girl for you. She just turned 19, comes with beautiful blonde hair, mesmerizing grey eyes and the perfect pair of A sized tits that will blow your mind away. She will be pleased to please you on camera for sure.


Abraxas_II wrote (2019-02-26 13:12:15):
A real, true beauty, an outstandingly hot and gorgeous blonde! AMY has entered my favorites list in no time! Even if she seems to be a little shy, inhibited and uncomfortable in her videos, I am sure she will soon gain self-confidence and routine. Can't wait to see her again in more MOVIES, please!
TillEulenspiegel wrote (2019-01-01 11:01:21):
I fell in love with the beautiful AMY the moment when I first saw her on AmourAngels, but of course it is so much more amazing to watch her in a video!! Totally breathtaking, beautiful as a Playmate, but fortunately a lot naughtier...Thank you so much for this heavenly wonderful girl! More videos with her please!!